Digital Photography
Opinions, Observations,
Articles, Insights, and Tutorials

Kodak Professional's DCS Pro 14n Digital SLR
The Leader of the Pack

Full frame 24 x 36mm CMOS sensor, 4560 x 3048 (13.89 million) total pixels.
RGB color filter array (Bayer Pattern).
Individual pixel size: 8 microns x 8 microns.
Maximum finished image size 4536 x 3024 (13.7 million) pixels.
Magnesium alloy metal camera body.
Relatively lightweight & compact, easy to handle.
Hands-on experience

I recently got the opportunity to take a Kodak Pro 14n to a Texas Hill Country cattle auction.

The camera was a pleasure to handle, gave me rich, lifelike color reproduction, and its full-frame wide angle capabilities gave me some great snapshots.

(Left) Kodak DCS Pro 14n photo.
Nikkor 20-35mm f2.8 zoom lens, ISO 100, Auto White Balance,
Programmed Automatic Exposure, Raw format,
13.5 megapixel size setting.
---
I switched to ISO 400 inside the auction barn to gain shutter speed while taking some hand-held available light snapshots. (No flash allowed.) I was pleasantly surprised at the reasonably smooth ISO 400 noise levels, especially considering all the negative things I'd read in the pro camera forums about how the camera's upper ISO settings were pretty rough because of high noise levels. Auto white balance produced excellent color accuracy under the flourescent lights.
Holding the camera at my side with one hand & slowly pointing it towards my subject, aiming by 'feel' rather than through the viewfinder gives me great candid shots. (People don't know that I'm taking their picture because I don't bring the camera up to my eye.) This kind of 'scatter shooting' usually requires some cropping to get what I'm looking for, and frequently produces great candid pictures like this interesting stealth shot of a rancher contemplating the cattle bidding.
(Below) Kodak DCS Pro 14n ISO 400 photo, Nikkor 20-35mm f2.8 zoom lens, Auto White Balance, Programmed Automatic Exposure, Raw format, 13.5 megapixel size setting.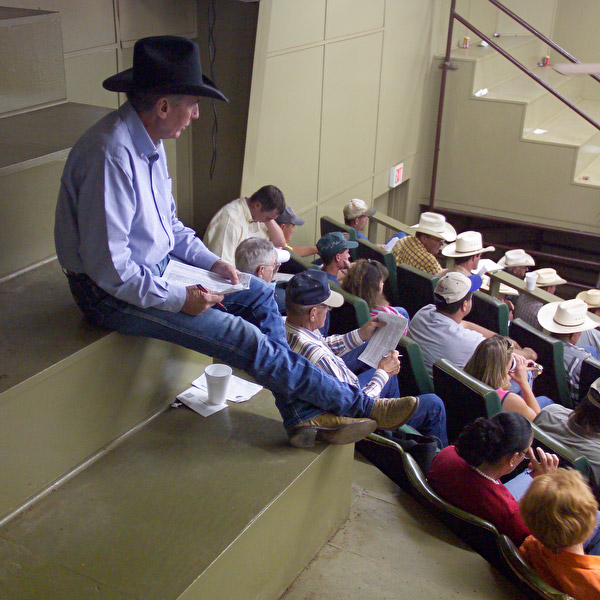 Click for a 1200 x 1200 pixels, 374 KB view
The DCS Pro 14n's 13.5 million pixels gave me plenty of room to crop Remenber - the more pixels a camera has, the more you can crop and still have enough size left over to produce a good quality print.
Here's a screenshot of the crop outline in the original frame.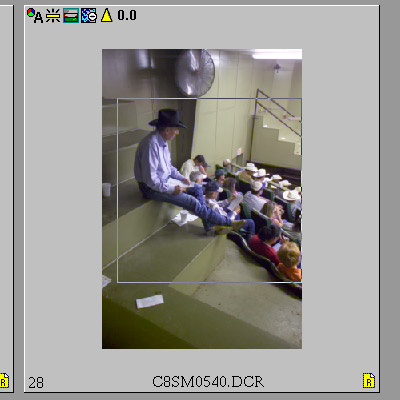 ---
Camera Specifications
| | |
| --- | --- |
| | |
Camera body dimensions: 5.16" tall x 6.22" wide x 3.5" deep.
Weight: 2 lbs. (without battery or lens).
Continuous shooting speed: maximum rate 1.7 frames per second.
Continuous shooting buffer size: Standard 256 megabytes (up to 8 frames), upgradeable to 512 megabytes (up to 18 frames) at a Kodak factory service center. (Pricing for upgrade not available at this time.)
Shutter speeds: 30 seconds - 1/4000 second.
Sensitivity: ISO 80 - 640 at full resolution (4536 x 3024), ISO 80-800 at all other image sizes. ISO settings are adjustable in 1/3rd stops.
Selectable output resolution (image sizes), RAW or ERI-JPEG:
* 4536 x 3024 (13.7 megapixels)
* 3024 x 2016 (6 megapixels)
* 2268 x 1512 (3.4 megapixels)
* 1134 x 756 (1 megapixel)
File formats: RAW & ERI-JPEG. Note that RAW & ERI-JPEG file processing software is included with the camera package at no additional cost - Kodak DCS Photo Desk and Kodak DCS Camera Manager. ERI-JPEG images have the same post-shooting software adjustments available as RAW images, with 2 full stops of exposure compensation latitude in either direction, white balance correction, tone modification, etc.
The 4536 x 3024 in-camera (best quality) RAW files are approximately 15 megabytes each. (That would be approximately 65 images on a one gig microdrive.)
The camera can write RAW file and matching JPEG file simultaneously for ease of post-shooting workflow and in-computer image reviewing. Secondary JPEG files can be a different resolution than the RAW file. For example, the JPEG output can be set to the 1134 x 756 size for quick & easy review on a computer screen, while the original RAW file can be full sized for maximum available finished quality output.
10-segment 3D Matrix Metering.
Vertical (portrait) shooting controls in addition to standard camera-top controls.
Built-in landscape / portrait orientation sensor (horizontal / vertical), tags images for automatic rotation in image processing software.
Flash synch speed up to 1/125th second.
Built-in popup flash plus a hot shoe (both D-TTL).
LCD Review / Menu screen: They say it's really good, really clear, exceptional quality .
10-pin remote terminal port.
Lightweight, long-lasting lithium-ion battery.
Combination battery charger / AC adapter included.
Video out: NTSC and PAL .
Audio: Record on camera with built-in microphone (single channel audio), playback on computer (sound card & speakers required).
Anti-aliasing / low pass filter: None (not necessary because of image sensor design).
Autofocus System: Nikon Multi-CAM900 five-area autofocus system (same as Nikon N-80, Nikon D-100, Fuji S2 Pro).
Two storage media slots: Slot 1 - CompactFlash memory (compatible with CompactFlash Type I/II, including Microdrive), Slot 2 - MMC/SD memory.
Hand Strap (I love Kodak Professional's hand strap!)
---
Camera Body Size Comparisons
| | |
| --- | --- |
| | |
| Compared with a Fuji S2 Pro | Compared with a Nikon D1x |
---
Frequently Asked Questions
Q. What is the KODAK PROFESSIONAL DCS Pro 14n Digital Camera and how does it differ from the DCS 760?
A. The DCS Pro 14n is the latest in six generations of single-lens-reflex KODAK PROFESSIONAL Digital Cameras and full digital workflow systems. The DCS Pro 14n is dramatically different from the KODAK PROFESSIONAL DCS 760. The Pro 14n is a feature-rich digital SLR with a new electronics architecture, new camera body, and a full-size CMOS image sensor.
Q. What is the difference between the CMOS sensor and the DCS 760 sensor?
A. The DCS 760 uses a traditional CCD image sensor with 6-million-pixel resolution. The DCS Pro 14n uses the newest professional CMOS sensor technology available and has 13.9 million pixels. CMOS and CCD image-sensor technologies are distinctly different. CCD image sensors are (electron) charge-coupled devices that require very sophisticated and power-hungry electronics to operate, and due to the amount of support electronics, take up more space and power inside the camera. CMOS image sensors incorporate light-sensing technology that allows for charge conversion right inside the pixel, therefore dramatically reducing support electronics and power consumption. The small size of the Pro 14n camera, even though it incorporates a full 35 mm area sensor, was achieved through the use of CMOS sensor technology.
Q. Does the Pro 14n have a NIKON Camera body?
A. Nikon has custom-manufactured the camera body components for Kodak Professional. While the DCS Pro 14n does share features and components with some of Nikon's own cameras, this particular body is custom-manufactured for Kodak's use. Kodak enhanced the body with additional professional features, such as a vertical "smart" shutter release, magnesium alloy encasements, and a 10-pin remote release terminal compatible with most Nikon accessories.
Q. Can Nikon lenses be used with the Pro 14n?
A. Yes. The Pro 14n uses the NIKON F Mount and supports the full line of current NIKON Lenses.
Q. What other features does the DCS Pro 14n offer?
A. In addition to the new image sensor, the DCS Pro 14n has a wide range of professional features that ensure superior image quality and performance.
High resolution - 13.9 million total pixels, producing an image size of 4500 x 3000 pixels.
Full-size 35 mm frame sensor (24 mm by 36 mm image area).
Selectable, variable-resolution raw files.
Selectable ISOs in 1/3-stop increments.
Basic- and advanced-mode operations.
12 MB-a-second image transfer - about 3 to 4 times faster than the current IEEE 1394.
A large, bright LCD panel for image analysis.
D-TTL-enabled hot shoe and pop-up flash.
A sensor that detects camera orientation +/- 90 degrees.
"Picture Protection" including KODAK PROFESSIONAL Extended Range Imaging Technology.
Q. What is variable resolution?
A. For the first time, you can select the resolution you want for RAW files.
| | |
| --- | --- |
| Resolution | ISO Range |
| 100% (~13.6 MP) | 80 - 640 |
| 67% (~6.1 MP) | 80 - 800 |
| 50% (~3.4 MP) | 80 - 800 |
Q. How do you get variable resolution from RAW files?
A. Variable resolution for RAW files is a unique capability offered in the Pro 14n. To achieve "true" RAW status for the lower resolution image files, the entire 13.9 mp resolution is read off the sensor at 12 bits dynamic range. Then a proprietary image-processing algorithm "interpolates and resamples" the high resolution into a lower resolution while keeping the 12-bit dynamic range. The resulting image is specially color encoded and losslessly compressed to reduce the file size. This technique achieves very high quality and low artifacts, while reducing the native resolution. The powerful DSP engine in the Pro 14n performs all this processing in-camera, so users can benefit from more images per storage card for assignments that do not require the highest resolution.
Q. Does the DCS Pro 14n use an anti-aliasing filter?
A. No. The DCS Pro 14n does not have an anti-aliasing filter. Consequently, the DCS Pro 14n yields images that are sharper than most other digital SLR cameras. The resolution of the Pro 14n is so high that aliasing artifacts are generally not an issue for most applications.
Q. Who will benefit most from the DCS Pro 14n?
Q. What is the function of the Basic Mode?
A. The Basic Mode makes digital photography easy for anyone who wants to take it out of the box and shoot, without extensive training or experience.
Q. What is "Picture Protection?"
A. Picture Protection is included in our entire line of KODAK PROFESSIONAL DCS Digital Cameras. It offers a variety of workflow features that include post-shot exposure compensation, white balance corrections, file recovery, dual card storage, and KODAK PROFESSIONAL Extended Range Imaging Technology (ERI). ERI gives you image files that work as standard JPEGs but include the dynamic range and color gamut of raw, 12-bit, DCR camera files.
Q. What is included in the box with the DCS Pro 14n at purchase?
A. The DCS Pro 14n Digital Camera ships with hand strap, neck strap, body cap, DC Power Module, a custom rechargeable Li-Ion battery, and charger/AC Adapter, printed user guide (English), documentation (localized in 8 languages) on CD, and localized software CDs for Photo Desk and Camera Manager, warranty card, and service information.
Q. Is there an IEEE 1394 cable available for use with the camera?
A. Yes, and it can be purchased separately.
Q. What is the focal length magnification?
A. Since the DCS Pro14n has a full 35 mm film size sensor, the focal length magnification is 1. This means that 35mm lenses operate as they would with film, and will show the same full image that the lens was designed to image.
Q. Does the DCS Pro 14n offer an external video output?
A. Yes, user selectable NTSC and PAL video formats are supported by the video connection. In NTSC mode, the color LCD and the video output are enabled simultaneously. In PAL mode, simultaneous operation is not supported.
Q. The DCS Pro 14n has a top end ISO of 800, but the DCS 760 only went to 400. How was this improvement accomplished?
A. The DCS Pro 14n camera is based on a significantly different sensor and electronics architecture that makes use of more advanced technology to enable this top-end ISO improvement.
Q. Are there any plans to market an EOS-mount version of the DCS Pro 14n?
A. Kodak currently is not publicly discussing any plans to create a Canon EOS-mount version of the DCS Pro 14n Digital Camera.
Q. What is Nikon's role in the development of the DCS Pro 14n?
A. Nikon designed and supplies the lens mount and photographic body architecture for this camera.
Q. Are there any plans to market an EOS-mount version of the DCS Pro 14n?
A. Kodak currently is not publicly discussing any plans to create a Canon EOS-mount version of the DCS Pro 14n Digital Camera.
Q. What about camera warranty, service programs?
A. The DCS Pro 14n has a one-year warranty, with service provided at Kodak Service Centers worldwide. Various extended warranty programs are available through Kodak dealers on a country-by-country basis.
Kodak and Kodak Professional are trademarks of Eastman Kodak Company.
---