Digital Photography
Opinions, Observations,
Articles, Insights, and Tutorials

Flash Accessories - Achieve Professional Results at Home

Note: When I wrote this article, I was shooting with Canon gear. The principles & setups are virtually the same with other camera brands.

A couple of remote-capable speedlights, a wireless speedlight trigger for your camera, a pair of optical white photo umbrellas, adapter brackets to couple the flash heads with the umbrellas, and a good quality photo background can make you perform like a true professional in the comfort of your home.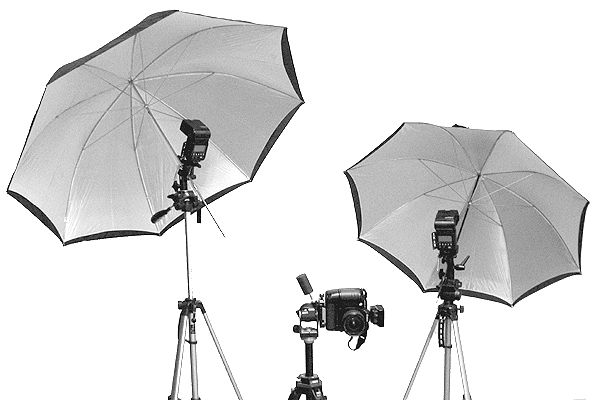 Below: At home portrait, taken in my dining room.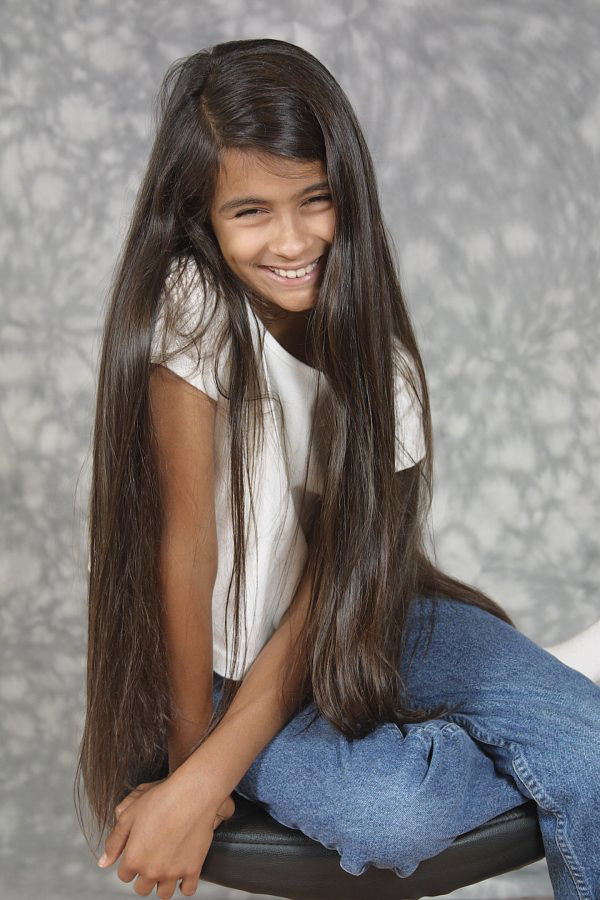 Click to Enlarge: 1200 x 1800 Pixels, 754 KB
Camera Setup:
Canon EOS D30 Camera
Manual Exposure: 1/30th second @ f5, ISO 200
Lens: Canon 28-135mm IS @ 60mm
Lighting Setup:
Two Canon 550EX speedlights in E-TTL mode
Canon ST-E2 speedlight transmitter
Flash Compensation +1 (set on camera)**
The two umbrella / flash rigs were set at 45o angles from the chair at a distance of around 8 feet, and were around 8 feet apart. The 60" umbrella was set at 6 feet high, at a around a 60o down angle. The 45" umbrella was set at 4 1/2 feet high, at around a 30o down angle. The chair (an office chair with the back removed) was about 2 1/2 feet in front of the background. And the camera was set up slightly in front of the umbrella rigs, around 6 feet from the chair.
Ambient lighting: Our dining room's regular lamps & light fixtures provided average room lighting, much like you'd find in any room in anybody's house. Not particularly bright, not too dim, it was just there.
** Flash compensation note: It took about a dozen test shots to dial in the camera exposure & flash settings for this shooting session, using the LCD's histogram & image display as a guide. From that point on, every shot was right on the money.
Accessory Details:
Westcott 45" optical white satin umbrella with black removable cover: Part # 2016
Westcott 60" optical white satin umbrella with black removable cover: Part # 2021
Why bother with umbrellas with removable covers? With the covers removed, you can flash "through" the umbrellas (rather than bouncing off them) and use them as softboxes for a smooth, light fill flash.
The Manfrotto swivel umbrella adapter kit is available
under a couple of different packaging brand labels.

Marketed by Bogen: Part # 2905
Marketed by Chimera: Part # 3850

FYI: The Canon 550EX speedlights come with an included stand with a threaded base, which either can sit on a flat surface or screw on standard tripod mount threads, such as the ones on the top of the adapter.

The base of the adapter screws onto any tripod mount.
The wireless Canon ST-E2 speedlight transmitter allows you to freely move around while you're shooting (no connecting cords to trip over). It has also has an infrared focus assist beam to help lock in on your focus point quickly and precisely, even under low ambient lighting conditions.
---