Digital Photography
Opinions, Observations,
Articles, Insights, and Tutorials
Contax N Digital

"Like good cooking, the results prove to be better than fast food. The ingredients are rich and flavorful... you just have to know how to 'cook' & be willing to take the time to learn what this camera likes."
Yes, the N Digital requires a little more effort, skill, and understanding than some other cameras. Some pictures require strong post-processing skills to bring out the treasure beneath. But like good cooking, the results prove to be better than fast food. The ingredients are rich and flavorful... you just have to know how to cook, or be willing to take the time to learn. A couple of special attributes have great appeal - the full potential of wide angle lenses with the full-frame sensor, and the added potential of clean, rich, deep color saturation using ultra-low ISO photography (as low as ISO 25).
In spite of many opinions to the contrary, I personally like the camera. Yes, I too had some trouble with image quality (at first), but I finally learned how to successfully use it... and have fun with it.
The key is in the camera's setup ... here's what works for me:
Exposure compensation +0.3 (using the on-camera dial). Typically produces a good, clean double-ended histogram without blowing out any highlights. A zero setting is nearly always underexposed and sharply cuts off the left side of the natural histogram layout.
Chroma + (Increased saturation.) Produces full, natural color quality. The "standard" setting is a bit washed-out & flat looking.
Auto white balance. "Auto" usually does a very good job.
Standard edge emphasis (sharpening). This is the camera's default setting.
Jpeg1 image format (best quality jpeg). It combines great image quality with fast write times. This is also the camera's default setting, and I strongly recommend it for day to day use.
Once I set up the camera this way, I really enjoyed it. And consistently produced top quality pictures.
Some things work exceptionally well
Virtually perfect color reproduction. Equal to or better than any camera I've used.
Lenses: Zeiss lenses are significantly sharper & clearer than others.
The Jpeg1 format (best quality jpeg setting) is exceptionally clean.
For the wide-angle enthusiast, the full frame CCD sensor of the N Digital has a major advantage because it has no multiplier effect. The CCD is the same size as a frame of 35mm film, giving it a broader angle of view than other 35mm film-body based digital cameras. The camera uses more of the lens, not just the center portion.


Great Lenses
The Zeiss 70-300mm zoom is excellent (sample picture below).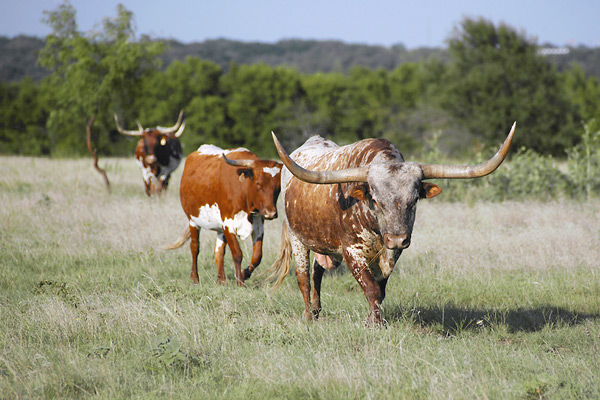 Texas Longhorns
Click to enlarge: 1200 x 800 pixels, 513 KB
Programmed Automatic Exposure, Jpeg1 Format, ISO 100, Zeiss 70-300mm zoom lens @ 70mm.
---
And the Zeiss 24-85mm zoom is a great portrait lens (sample picture below).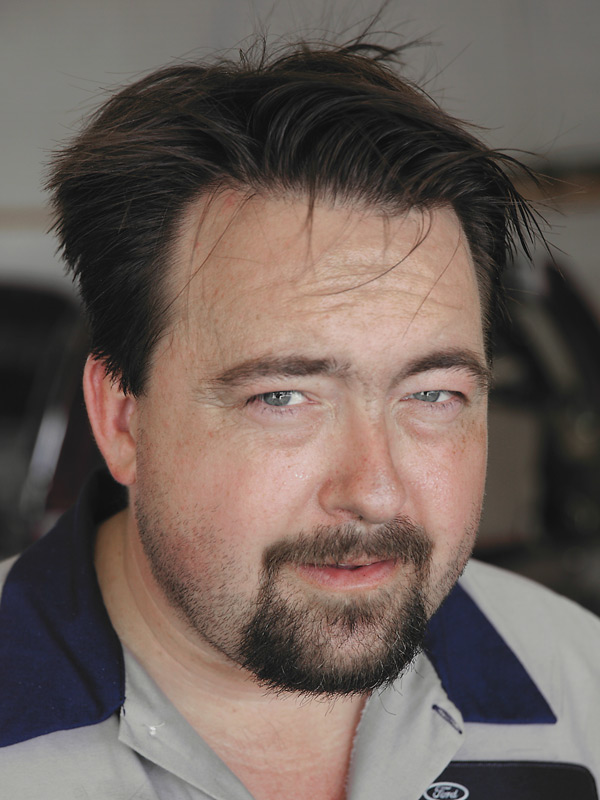 Terry @ Work
Click to enlarge: 1200 x 1600 pixels, 627 KB
Aperture Priority, Jpeg1 Format, ISO 50, available light, Zeiss 24-85mm zoom lens @ 85mm.
---
ISO 25 helps to produce rich, vibrant colors (sample picture below).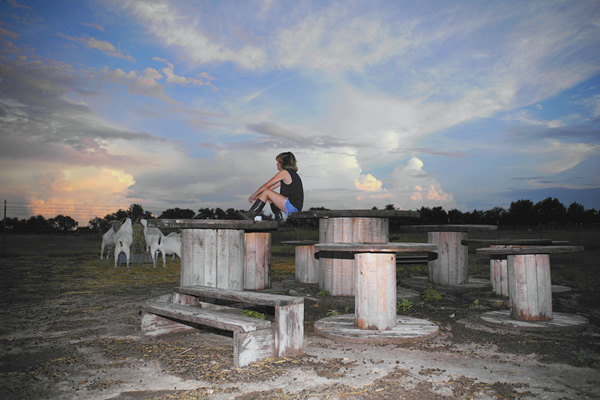 The Good Shepherd
Click to enlarge: 1200 x 800 pixels, 514 KB
Aperture Priority, Jpeg1 Format, ISO 25, available light, Zeiss 24-85mm zoom lens.
---
File formats & sizes
The N Digital can be set to record images in 5 different modes. All image modes are recorded at 3008 x 2008 pixels. Here are the 5 available formats and their approximate file sizes:
Jpeg1 1.9 - 3.0 Megabytes
Jpeg2 1.0 - 1.5 Megabytes
Jpeg3 0.5 - 0.8 Megabytes
Tiff 18.0 Megabytes
Raw 9.0 Megabytes
Jpeg1 is the best all-around choice
Jpeg1 format is the best all-around option. With a low 1:4 compression ratio, the Jpeg1 format is fast, efficient, and can produce high quality pictures. Because it's fast, efficient, and capable of high image quality, it makes the camera fun to use.
Practically speaking, there is little or no visual difference between an original in-camera 8 bit Tiff image and an original 8 bit Jpeg1 image. You'd have to look real hard to find any difference in quality. (Most likely you wouldn't.) The speed and convenience of Jpeg1 files give them a strong practical advantage over in-camera Tiffs. And for "keeper" pictures, original Jpeg1 files can be saved as 8 bit Tiffs (which end up ~ 18 megabytes) in Adobe Photoshop to retain maximum image quality.
How about the in-camera Tiff option?
The in-camera 8 bit Tiff option is uncompressed, absolutely lossless, and does provide an LCD review. That's good. But the 18 MB files record too slowly and take up too much space on a memory card for practical use.
How about Raw format?
Contax's Raw format software is nearly useless. Why? Because the most important advantage to shooting "raw" is the ability to reset exposure compensation and white balance after the fact. And you can't do either with Contax's Raw Data Developer software.
I like to shoot Raw format with Nikon, Kodak, & Canon digital SLRs because of the wide variety of post-shooting adjustments that their processing software provides - exposure compensation, sharpening, tone, white balance, and other corrections after the fact. In my way of thinking, Raw should allow me to shoot with my camera set up on "automatic everything", and should give me the opportunity to make these kinds of basic changes afterwards if the camera didn't do it right the first time. That's the beauty of Raw.
Even though the Contax N Digital does offer a Raw option, the post-shooting software adjustments are too limited for practical use. Here's what it can & can't do:
Can: Adobe RGB or sRGB color space selection options for files to be converted.
Can: Dark frame correction during conversion for noise reduction.
Can: Raw files can be converted and saved as 8 or 16 bit Tiff format images (only).
Can (sort of): An arbitrary white balance correction, much like Photoshop's AutoLevels, where the software decides what's best regardless of what's actually correct. Click on "set white balance", the software reads the picture and either it works or it doesn't. As with Photoshop's AutoLevels, if it doesn't work, it's usually really bad. There is no "eyedropper" white balance, there are no presets, and there are no color temperature (K) options.
Can't: No adjustments for EV, sharpening, tone, or saturation.
The only good thing I've found about Contax's Raw software is that it come "free" with the camera (USA Model).
** Update: Adobe Photoshop CS & newer versions (which were not available at the time of this review) includes Contax N Digital Raw support and can do the industry-typical full range of Raw adjustments.
Below: Screenshot of Contax's "Raw Data Developer" Raw file conversion software with some annotations I've added about the setup & options.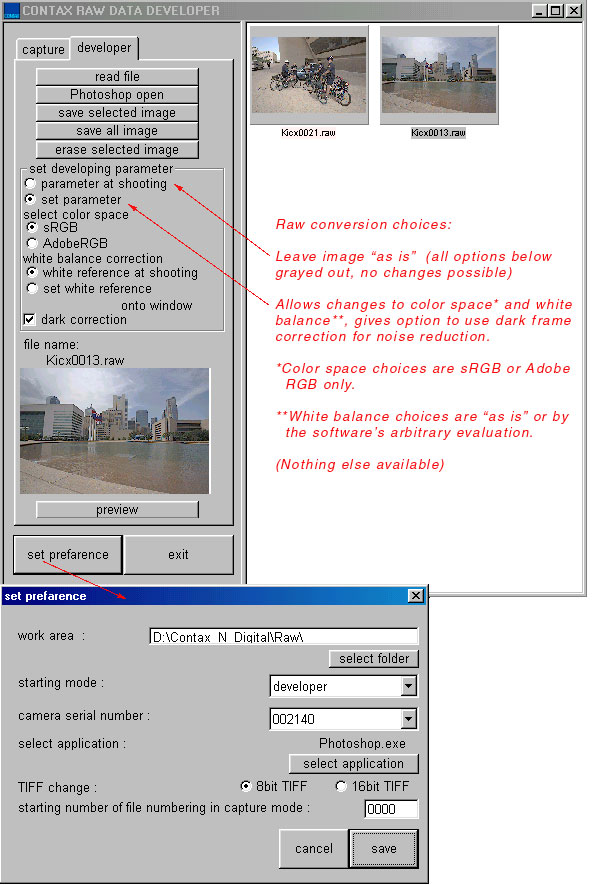 No LCD review in Raw mode
Like other digital SLRs, the N Digital has a record & review mode as well as an image playback mode so you can see what you've taken... except in Raw mode. That's right, the N Digital does not have an LCD screen review available to see your Raw images. You only get a blank blue screen that says "RAW" with a reference file number shown in the corner of the LCD screen. There's no way to check scene composition, no histogram, nothing. And without the capability of an on-camera LCD review, Raw becomes handicapped even more.
The only possible advantage I can see to using Raw in the N Digital is having a lossless file that can be converted to a 16 bit Tiff. If a big, fat 16 megabyte Tiff that you can work over in Photoshop is important to you, fine. Other than that, it's a lot more trouble than it's worth.
---
Flash photography problems
TTL flash photography is hit & miss, with more misses than hits. TTL flash exposure is difficult to get right for any digital camera manufacturer because of the additional reflectivity of the digital sensor compared to film, and it looks like Contax didn't spend much time in this department. Getting a good flash exposure is a case-by-case trial & error process of adjusting speedlight settings on the fly and checking the LCD screen after every shot. Yes, you can get good flash exposures, but it takes some work and special attention.
---
Technical overview
6 Megapixels, 35mm format, full frame (24mm X 36mm) CCD. The N Digital is the world's first Digital SLR to use a full frame 35mm CCD. This gives the photographer the ability to use a full range of Carl Zeiss T* lenses as the focus angle (angular field) is exactly equal to that of a 35mm film camera. The photographer is now able to concentrate on shooting, as the capture area is the same size as in traditional film based photography.
Thin, low pass filter developed by Kyocera crystal technology. An optical uncolored crystalline low pass filter eliminates false color producing frequencies that often affect image quality.
Wide range of image recording modes. The N Digital can write in several formats, including JPEG (3 compression ratios) RGB-TIFF, and RAW formats.
The photographer can select from a menu of white balance modes. Auto: automatic adjustment by a built in color-detecting sensor. / One Push Preset: selects a white balance based on a specific subject area. / Custom: the photographer can use to select a favorite color temperature. / Manual.
Recording media: Compact Flash Type I and II & Microdrive. The N Digital uses the popular Compact Flash type I and II, which can offer large storage capacity. In addition, the N Digital also uses the IBM Type II Microdrive to meet high capacity requirements.
High Speed DSP and IEEE1394. The N Digital uses high-speed digital image processing (DSP), which makes for real time processing and photography at 3 frames per second. The N Digital is equipped with a computer interface for reliable high-speed FireWire (IEEE1394) image transfer. It is possible to transfer a RAW 12.5 Megabyte file to a computer in one second and also handle high speed, data transfers efficiently.
An LCD monitor for immediate playback. A 2.0-inch, low-temperature, polysilicon, TFT color LCD monitor, with a Graphic User Interface (GUI) is located on the back of the body. The photographer can check exposure, focus and file information directly from the LCD monitor.
Shooting assist function: The LCD offers a visual Shooting Assist Function histogram, confirmation of exposure range (which can be shown in bright tone distribution graphics), and displays exposure information and other file information simultaneously.
Basic functions of CONTAX N1: The N Digital shares all basic functions of the Contax N1. The photographer can concentrate on shooting because the N Digital can be handled the same as a traditional 35mm SLR. Some of the basic functions shared between the Contax N Digital and the N1 are as follows: Dual Focus Function, 5 Point Wide Array Diagonal Auto Focusing, Fine Focus Bracketing (A.B.C.), High Speed Shutter, maximum speed 1/8,000 sec., flash synchronization speed 1/200 sec., TTL evaluative metering, center-weighted average metering, spot metering, Flash auto set function, Mount Adapter NAM-1 as an optional accessory for CONTAX 645 mount lenses, Custom Functions.
Shares N1 & NX accessories: All the interchangeable lenses (Contax 645 lenses with NAM-1 adapter) and accessories from the Contax N1 and Contax NX can be used with Contax N Digital.
Technical specifications
Type: 35mm focal plane shutter AF/AE SLR digital camera.
Image Size: 24 x 36mm
Image Device: 35mm format full-frame square pixel RGB primary color CCD
Effective Pixels: 6.29 mega pixels
Recording Pixels: 6.13 mega pixels
Recording formats: JPEG (compression ratio 1/4-1/8-1/16), RGB-TIFF, RAW 12bit (RAW data should be developed through image data processing with the dedicated application software).
Recording Media: CompactFlashTM card (type I, II), Microdrive (510MB, 1GB).
White Balance: Auto, fluorescent light, flash, one-push preset setting,color temperature setting (predefined value). Auto White Balance measured by an internal sensor.
Image regulation: Tone curve, edge emphasis.
LCD monitor: 2.0 inch low temperature polysilicon TFT color LCD, approx. 200k pixels.
Playback Display: Single image, 9 image index, playback zoom function, histogram view, high light view.
Lens Mount: Contax N Mount.
Shutter: Vertical-travel focal plane shutter.
Shutter Speeds: Av, P: 32 sec. to 1/8000 sec. / Tv, M: shutter dial setting 4 sec. to 1/8000 sec. / Command dial setting 32 sec. to 1/8000 sec. / B: Bulb X: 1/125.
Sync Settings: X setting (1/200 sec. or slower), direct X setting sync-terminal provide.
Self-timer: Electronic type with 2 & 10 second delays.
Shutter Release: Electronic release with dedicated cable switch socket.
Exposure Control Modes: Aperture priority auto / Shutter priority auto / Program auto / Manual exposure / TTL auto flash.
Metering System: TTL evaluative matrix, center-weighted average or spot (selectable).
Metering Range: (ISO100, F1.4) EV 0 to 21 (evaluative matrix / center-weighted metering), EV 3 to 21 (spot metering; based on 3mm diameter area in center of viewfinder).
Speed Range: ISO 25 to 400 equiv. (1/3 step).
AE Lock: EV at image plane stored in memory.
Exposure Compensation: +2 EV to –2 EV, in 1/3 EV or 1/2 EV steps (selectable).
Exposure A.B.C. System. Compensation : 1/3 EV or 1/2 EV or l EV steps (selected with Exposure A.B.C. Lever).
Coupled Flash System: TTL direct flash control.
Flash Coupling: Automatic shutter speed adjustment when Contax flash unit reaches full charge.
Flash Auto-set: Available for Contax flash units with auto-set function.
Second-curtain Sync. Available for Contax flash units with second-curtain sync.
Focusing System: TTL phase-difference detection (5-point).
Focus Modes: Single AF, continuous AF (predictive), manual.
Viewfinder: Fixed eye-level pentaprism (long eye-point) 95% field-of-view, 0.73x magnification (with 50mm standard lens at infinity -1 D diopter, fitted with eyepiece shutter.
Diopter adjustment: Internal mechanism, adjustable from -3D to +1D; FM type eye piece lenses (2 types) optionally available.
Focusing Screen: Supplied with whole-view matte FX-2; interchangeable with other FX-type screens.
Finder Display: Focus frames. Exposure A.B.C. icon, Fine Focus A.B.C. icon, Exposure counter/Self-timer counter/Exposure A.B.C. sequence, Fine Focus A.B.C. sequence, Metering indicator, Flash ready, Focus indicator, Aperture, Shutter speed, Exposure meter/Exposure compensation/Metering divergence, Manual exposure icon, Exposure compensation icons.
Display Panels: Top-LCD: Exposure counter/Self-timer counter/Exposure A.B.C sequence/Fine Focus A.B.C. sequence/Bulb time, Focus frame selection, Exposure compensation (when exposure compensation dial is in green position), Drive indicators, Battery status (shooting mode), Aperture, Shutter speed/Film speed/Camera customized functions.
Rear-LCD: Exposure counter, Recording format, White balance, Digital function customized setting, Memory card cover indicator, Battery status (playback mode).
Drive Modes: Single-frame, continuous exposure, self-timer (2, 10 sec.)
Continuous shooting Speed: Max. 3 frames per second in continuous ("C") mode (with fresh battery at room temperature).
Max. Burst Shooting: JPEG1 (1/4 compression) approx. 5 shots. JPEG2 (1/8 compression) approx. 8 shots. JPEG3 (1/16 compression) approx. 13 shots. RGB-TIFF approx. 3 shots. RAW approx. 3 shots (Shooting speed should decrease after 3rd shots, complying the recording mode).
Exposure Counter: Subtractive type, visible on top-LCD panel, rear-LCD panel and inside viewfinder, top-LCD panel and rear-LCD panel displays "99" when more than 99 shots remains.
Accessory Shoe: Direct X contact (coupled W/TLA flash).
I/O Interface: IEEE1394.
Power Source: AA-type Ni-MH rechargeable battery x 4, AC power adapter.
Battery Check: Automatic, status indicated on display panel.
Number of shots: Approx. 300 shots or more (room temperature, JPEG 3 quality)
Other Features: Exposure check button, Depth-of-field preview button, AF light, Camera customized functions, Digital function customized setting, Vertical shutter release button (with lock function), Focus target selector.
Dimensions (W x H x D): 6 x 5-7/16 x 3-1/8 in. (152.0 x 138.0 x 79.5mm)
Weight: 2.18 lbs. (990g) w/o battery.
Standard Accessories: AA-type Ni-MH rechargeable battery x 4/Quick battery charger, AC power adapter, Strap, CCD parameter CDR