Best viewed at 1024 x 768 or greater screen resolution, 16 bit color or better.
All content & photographs copyrighted, all rights reserved.
Essential Tools for Processing & Printing
Websites, books, and magazine ads feature scores of "this one's the best" as far as digital photography software packages, printers, and accessories go. Here what I personally use every day:
---
"How to" books are certainly important to have, but they'll end up just sitting on your desk unless they offer real inspiration. A great book is one that you pick up & refer to again and again.

Practical Photoshop tips & tutorials, composition, lighting, exposure, color management, printer & monitor calibration, and many more real-world uses are covered by the authors of this book in a way that excites & inspires rather than bores or confuses.
Even if you know about all this stuff, Spring into Digital Photography will inspire & motivate your creativity, help you to keep your skills sharp, and refresh your thinking. (We all go stale at times.)
I'm proud to say that I was personally involved in this book since its early pre-press days as a primary draft reviewer and consultant. High quality glossy paperback, available at major bookstores (Barnes & Noble, Yahoo, Amazon.com, etc.), or directly from the publisher.
---


(Click to link to The ThumbsPlus website)
ThumbsPlus is always the first and last step in my digital workflow.
It's simple to use... The learning curve is a breeze.
It loads quickly and is easy on a computer's memory resources.
It has an outstanding thumbnail viewing setup for easy & quick picture cataloging, reviewing & retrieval.
The slide show is a wonderful way to review a big batch of pictures and a big help when it comes time to separate the keepers from the culls.
And most importantly, for final viewing (no matter what other software is used for post processing), I've found that ThumbsPlus displays the most accurate & true picture quality of any brand of photo software on the market. Even when I use Adobe Photoshop for advanced post-processing, I start out with ThumbsPlus to review & preselect the pictures I'm going to use. And when I'm finished, I check them out in ThumbsPlus to see how they look before I post them to my website.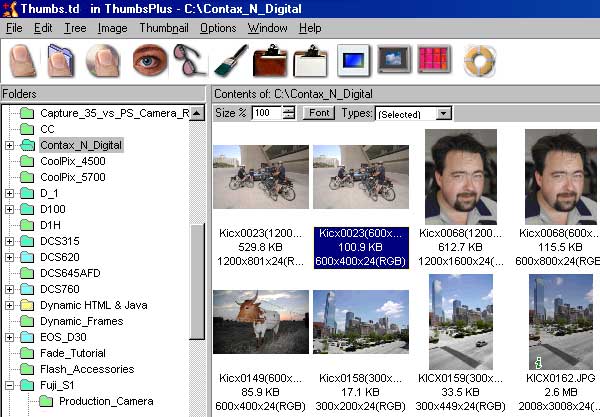 Link to the ThumbsPlus Website
---

Adobe Photoshop
(Click to link to Adobe Photoshop's website)


This is where I do most of my work. The learning curve is long ... I've been using Adobe Photoshop for over eight years, and I'm still learning. But the results are extremely satisfying. Once you get the hang of it, there's nothing like it. This is professional class software, the pro photographer's number one choice. Learn how to use it, and you'll join the ranks of the true masters of the art.
I recommend Version 5.5 or newer.
---
What are Plug-ins? Plug-ins are software modules ( mini-programs ) that work within Adobe Photoshop. Plug-ins can automate & customize special tasks, generate special effects, or provide additional options for your creative abilities. Plug-ins can also enable you to work faster and easier by tackling specific problems with specific solutions. In order to use Adobe Photoshop Plug-ins, you must have Adobe Photoshop installed on your computer.
Sources for hundreds of Adobe Photoshop Plug-ins can be found at the Plugins World.com website.
---
Thermal Dye Sublimation Printers
Dye-sub printers use a totally different process than inkjet technology. I switched from inkjets to dye-sub printers in early 1999 and have been totally satisfied with my prints ever since. Information on dye-sublimation printers and how they compare to other types of printers is described on Dennis Curtin's "ShortCourses" printer page .
In my opinion, once you've experienced the appearance, feel, finish, durability, and quality you get from a dye-sub printer, you'll never be satisfied with anything less.
Dye sublimation photo printers are available from Kodak, Fujifilm, Canon, Olympus, Hi-Ti, and Sony.

Kodak's 8600 Series Thermal Dye Sublimation Printers

The 8600 series printers produce absolutely "studio-quality" finished prints with continuous tone, rich-looking, glossy prints up to 8 1/2"x12" in size. With the available (strongly recommended) clear laminate layer coating process applied during the printing cycle, these prints look, feel, and last as long (maybe even longer) than conventional "wet" processed film prints done in the best photo labs in the world. These printers truly bring out all the quality your camera can produce. I personally use an 8650 PS model.

Lower cost option similar to the 8600 series printers

The Kodak 8500 has brought the price of owning a full-sized dye-sub printer down to a level where every pro shooter and serious digital photography enthusiast should have one. Click here to link to the Lonestardigital Kodak 8500 Printer Review
---
Rotary Blade Photo Paper Trimmers
Rotary cutters are far superior to traditional swinging blade paper cutters. I personally use a RotatTrim Mastercut model.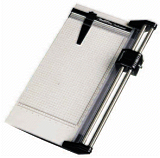 RotaTrim Photo & Paper Cutters
RotaTrim professional photo/paper cutters are built for quality, performance and durability. These precision-built hand-assembled cutters are the perfect tools for achieving precise, laser straight edges while trimming photo prints to size. The dual rail design maintains absolute control and stability and eliminates rough and crooked cuts. The rolling blade it self-sharpening and gives razor sharp cuts without chipped or frayed edges. RotaTrim cutters are available in 12" cutting length (for up to 8 1/2" x 11" paper), 15" cutting length (up to 8 1/2" x 14" paper), 17.5" cutting length (up to 11" x 17" paper); longer cutting sizes (up to 54") available.
RotaTrim features:
Safe, totally enclosed cutting wheel, mounted on easy-glide nylon bearings.
Cutting edge (on base) is completely shielded for safety.
Precisely cuts even the thinnest and most delicate photo paper, also cuts photo mounting boards up to 3 mm thick.
Long life, self-sharpening replaceable tungsten steel rotary cutting blade.
Super strong cast metal cutter module and end supports.
Exclusive double-rail carriage track for optimum cutting accuracy.
Clear plastic clamping strip automatically secures the work in place.
Included adjustable side guide tool helps on preset measurements, assures "square" cuts.
Extruded aluminum end guide assures square positioning and incorporates both inch and metric trim scales.
---
Wacom's professional quality graphics tablets use a wireless virtual pen instead of (or in addition to) a mouse for precise, smooth, fine detail work in Adobe Photoshop.

A must-have for freehand drawing, airbrush work, signatures, and Photoshop's Lasso Tool.

I personally use a Graphire 3 4x5 tablet.